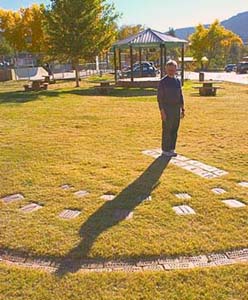 As part of the Jemez Springs 50th Anniversary Celebration, the Friends of the Library sponsored the construction and installation of a Human Sundial in the Village Park. This unique installation is a lasting gift to the Village and a fund-raiser for the Library.
This ground-level sun clock surface uses a person's own shadow to tell the correct clock time. The sundial is surrounded by a circle of names, each one written in a concrete stone.
For a minimum donation of $15 to the Jemez Springs Library you can add your name or the names of loved ones to the circle.
Entry forms are available at the library, or download the Friends of the Library Human Sundial form here: