Welcome Friends
Who We Are.
---
The Friends of the Jemez Springs Public Library is a 501(c)(3) nonprofit organization that serves the Jemez Springs Public Library through volunteer activities and fundraising. We are committed to furthering the cultural and educational programs of the public library and promotion of literacy throughout our community.
Our goals are:
To raise funds to support library needs and programs.
To promote literacy for children and adults.
To raise awareness of the library's resources among area residents.
To maintain and expand FOL membership and participation.
What we do.
---
Conduct book sales during special events throughout the year, such as 4th of July and Labor Day community events.
Organize and sell books through the Book Barn (open during regular library hours).
Hold annual membership meeting in March.
Offer special events which benefit the community and help raise funds for the library.
Host fundraising events.
How We Help.
---
Fund a portion of the operational expenses for the library that are not covered in the Village budget, allowing the library to be open five days a week.
Provide funds for library programming and events such as the annual summer reading program.
Help cover costs for supplies, presenter expenses, and other fees, such as movie licenses.
Provide funds for occasional other needs not covered by the general budget.
Manage the Book Barn, which provides low-cost used books to the community and much needed income for the friends.
Support the library with funding for operating costs, collection development and programs.
Donate.
---
Become a member of the Friends of the Jemez Springs Library today. Your support counts!
If you're already a member please remember to renew your membership annually.
Thank you for being a Friend!
Human Sundial Project.
---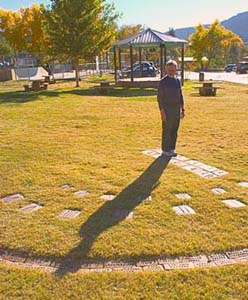 As part of the Jemez Springs 50th Anniversary Celebration, the Friends of the Library sponsored the construction and installation of a Human Sundial in the Village Park. This unique installation is a lasting gift to the Village and a fund-raiser for the Library.
This ground-level sun clock surface uses a person's own shadow to tell the correct clock time. The sundial is surrounded by a circle of names, each one written in a concrete stone.
For a minimum donation of $15 to the Jemez Springs Library you can add your name or the names of loved ones to the circle.
Entry forms are available at the library, or download the Friends of the Library Human Sundial form here: